May 15 End of week update.
What a week it has been…
EURUSD blasted through resistance again. No matter how much EU bashing there is in the U.S., they continue to grow. The rally in the EUR is more likely a correlation to the rally in crude oil, and not very indicative of other factors.
EURUSD
https://www.forex-trading-unlocked.com/Euro.html
Crude Oil
https://www.forex-trading-unlocked.com/Crude-Oil-WTI-Futures.html
If this is the case then it will be interesting to see if momentum stalls. Crude Oil has upside pressure from the news, but the Bulls seem to be ready for a break. And a Break is exactly what is on the menu. A short term ease in Crude will be a nice relief at the pumps as summer begins, and this would put the stop on the EURUSD rally as well. Now this may not be a turn in the EUR, but it would be a great time to set a range trade as the summer time trade settles in. After all, the whole world is at war today. What conflict would rock the EUR??? Only a major flight to quality in the USD could trigger that. This is very unlikely in the short term. Something to think about over the weekend as you prepare for next week's trade.
Have a great weekend,
Forex Trading Unlocked Inc.


Candlestick Forum Options Webinar - 2nd chance because Cash Bonanza runs on options
Good news… We're going to make up for any misunderstanding right now.

Yesterday an option trading friend called to say he didn't watch the Pivotal Cash Bonanza training series because he didn't realize from our emails that it was an option-trading program.

Then yesterday he found out the Cash Bonanza word-for-word trade recommendations are all specifically geared to buying Calls and Puts…

So he watched the training series… Which is still online, but it won't be for long…

Pivotal Cash Bonanza Training Extravaganza http://twaffiltrack.com/click.track?CID=274562&AFID=352489&ADID=1163446&SID=

Long story short…

He got all excited… he clicked "enroll now"… he discovered he was locked out… he begged us to make an exception… he was told he couldn't get in because, if we made an exception for him we'd have to make an exception for everyone… he got upset…

So now, we're making an exception for everyone!

Your Cash Bonanza Made Easy [video] http://twaffiltrack.com/click.track?CID=274562&AFID=352489&ADID=1163445&SID=

After all, who knows how many other people may have missed out because they didn't realize Cash Bonanza is an advisory service for option traders? Did you know?

So please, go watch Your Cash Bonanza Made Easy right now. http://twaffiltrack.com/click.track?CID=274562&AFID=352489&ADID=1163445&SID=

Because the portal will only be open until Sunday… Then it'll be closed for good.

PS Pivotal Cash Bonanza is backed by a 100% money-back guarantee of your purchase price. So, it sounds to me like your greatest risk is the risk of missing out. Click here to watch video now.

http://twaffiltrack.com/click.track?CID=274562&AFID=352489&ADID=1163445&SID=

Option and stock investing involves risk and is not suitable for all investors. Only invest money you can afford to lose in stocks and options. Past performance does not guarantee future results. The trade entry and exit prices represent the price of the security at the time the recommendation was made. The trade record does not represent actual investment results. Trade examples are simulated and have certain limitations. Simulated results do not represent actual trading. Since the trades have not been executed, the results may have under or over compensated for the impact, if any, of certain market factors such as lack of liquidity. No representation is being made that any account will or is likely to achieve profit or losses similar to those shown.


A Special Free Trading Lesson Offer From Our Friends At Trading Pub
Great news, for a short time you can download this 245 pg. e-book, When Markets Attack: Lessons from 15 Traders Who Beat The Market Click here to grab your copy

The book gives you the favorite strategies for beating the market from 15 top traders (Including one of our own top strategies). You're getting 15 different and PROVEN ways to trade the market.

There's no cost. No obligation. It's a giveaway but won't be available for long.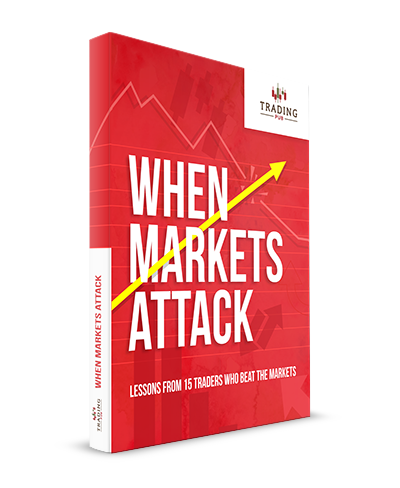 So click here to grab your copy now.

Cheers,
The Trading Pub
Disclaimer: Trading is risky. Past performance is not indicative of future results.